Programmatic advertising is a very smart, efficient, and cost-effective way to deliver highly-focused personalized ads to web audiences. Programmatic is so good at serving better-quality ads to more consumers, it generates higher revenues for each player in the supply chain.
But only if ad fraud didn't exist.
Bad actors and ad fraud are the biggest challenges to the world of programmatic. Reports and studies suggest online advertising fraud will reach record numbers in 2017, and it's threatening the integrity of programmatic advertising.
What are we talking about when we talk about ad fraud?
Ad fraud comes in all sorts of sizes and flavours: click fraud, non-human traffic, non-viewable impressions, layout fraud, ad stacking, and the list goes on. The industry continues to develop ways to counteract and fight fraud with ways to identify bot traffic, compliance codes on layouts, and so on.
The biggest fraud challenge, though, is domain spoofing. Buyers who purchase inventory on exchanges are fooled into thinking they've bought space on a high-profile or reputable site, when they're actually buying inventory on another site entirely " and at worst, a site with questionable content. This affects agencies and buyers the most, who want to make sure their dollars are going to the intended site.
In a recent article on Digiday, Chris Wexler " svp and executive director of media and analytics at Cramer-Kasselt " says that unchecked domain spoofing in programmatic depresses revenue for legitimate publishers and trust in the market for advertisers.
The prevalence of this kind of fraud " and the lack of confidence it breeds " could make agencies apprehensive about participating in the world of programmatic, which would be a tough blow to the whole ecosystem.
With shockingly high numbers of fraud eating away at the industry, it's time for a change to actively combat criminals to protect revenue " and more importantly " increase confidence and trust between publishers, ad exchanges, and networks.
The next step is ads.txt.
Ads.txt " a new industry standard
Developed by the IAB Tech Lab and industry partnerships, ads.txt increases transparency in programmatic advertising. It's a plain text file dropped on a publisher's site showing who is authorized to sell their inventory, providing a public access record, which can be indexed and referenced when inventory is purchased.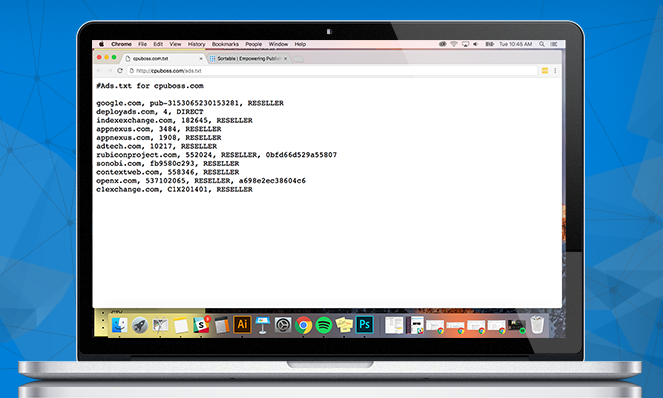 It's a simple solution with no need for heavy development nor extra training nor additional capital Ian Trider, director of real-time bidding platform operations at Centro, recently wrote in AdAge. By using ads.txt, buyers prevent dollars from lining the pockets of criminals, making it more difficult for bad actors to pollute the ecosystem with counterfeit inventory.
Its transparency provides trust by showing who's authorized to sell inventory, giving peace of mind to partners while closing the gap so bad actors have no place to hide. But for ads.txt to succeed, it needs the support of the industry. Trider sees the industry support happening quickly: We observe ads.txt files published on 120 of the top 1,000 sites that Basis DSP receives bid requests for.
Big-name publishers like Business Insider and the New York Times have already shown support for the initiative; Google is on board as well, and will begin scanning for ads.txt files soon.
I think other publishers will quickly get on board and would suspect that the majority of the comScore top 100 will have ads.txt implemented by the time Q4 starts says Rob Beeler, chairman of AdMonsters and founder of Beeler.Tech; Domain spoofing is a big issue and ads.txt should go a long way to addressing it.
Ads.txt means that the paths to supply for a publishers inventory are easily observed by all writes Trider in an email. This might not be instinctively comfortable for some, but it is this property that ensures that DSPs and their customers can validate the legitimacy of impressions purchased.
Ads.txt benefits everyone: Eliminating bad actors will help keep advertising dollars going to publishers and out of the pockets of fraudsters. Hopefully it'll bring some confidence back for buyers looking to move more money into digital says Beeler. Trider also comments, saying ads.txt is an excellent opportunity for publishers to take stock of their partnerships and ensure that they are comfortable with how their inventory is being sold.
Support from Sortable
We're working with our publishers to help them be transparent and support ads.txt. It's an important initiative that will set up publishers for success by protecting their brands and their interests. Trider also sees this initiative's importance: Ads.txt helps provide the confidence that brands and agencies have demanded and until now, not found in the online media supply chain.